HOT Real Estate Zones:  
Cabarete Real Estate
Sosua Real Estate
Puerto Plata Real Estate
Punta Cana Real Estate
LAND FOR SALE BOCA DE CHAVON BAYAHIBE LA ROMANA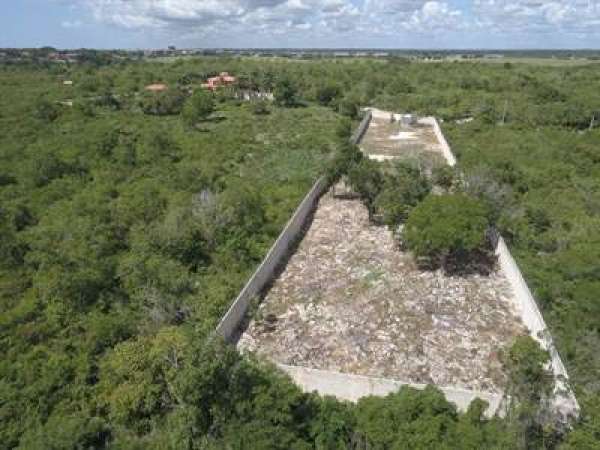 Property Description
LAND FOR SALE LA ROMANA BAYAHIBE BOCA DE CHAVON

Boca de Chavon is located a short distance to the beach in Bayahibe, near Boca de Yuma. An ideal area surrounded by the Caribbean ocean and the Beautiful Chavon River. Boca de Chavon is a smaller community/ village with approximately 600 residents.

Some smaller commercial areas for general needs in this area, as well as a small hotel, and even a baseball field . A very desireable area for builders and investors now due to the ideal location near Bayahibe and La Romana, The Eastern side of the Dominican Republic has been a very vibrant real estate market over the past year. The Boca de Chavon area has already grown over the past few months with more infastructure, more commercial options, as well as some new apartment / condo residential communities currently under construction. Currently this land is positioned between 2 other large executive villas (homes) with larger yards. Other villas nearby are under construction now.

The actual location of the village is conveniently situated just 15 minutes drive to either Bayahibe beach one way, and in the opposite direction, it's ideally located about a15 minute drive to the La Romana airport. Also, a 1 hour drive to Punta Cana airport and beaches, or about an hour to Santo Domingo and that airport. An ideal location for those who plan to travel to and from the DR more often.

This land is an easy and short 5 minute drive to the main highway. The Central Eastern location of this land and close proximity to 3 different international airports, makes it an ideal for the construction of a single family home for a quiet and confortable lifestyle, yet a short driving distance to all needs; Or an excellent option for Investors / Developers who can build condo (apartment) complexes to sell to the increasing demand for those living and working in Bayahibe or La Romana. An ideal location for commuting to work, whether your work is within the Dominican Republic Central East area, or whether you must commute for work to and from other Countries.
.
This land was purchased in 2020 by an American as a residential investment. The size of the land is 4,050 meters, almost exactly 1 acre. The dimensions are 89 feet x 492 feet, or 27 m2 x 149 m2.

This land has already been cleared, with a concrete security wall, including security surveillance; ready for building your private home, or perhaps building some nice apartments or more commercial spaces to resell or rent out for income. The security wall is 8-10 feet high, surrounding the entire property line. The well was drilled 230 feet. Electric runs to the land, and simply requires 1 or more electric meter(s) for residential use.

There are very few plots of land this size remaining in this desirable area. Especially at this great price of only $41.00 per square meter!

Because land prices here have also been going up, the price was raised recently. It will continue to go up, not down, as development in this hot area continues to grow.
The price of this land per sq. meter is still lower than the neighboring land asking $49-$50 U.S. per sq. meter.

This is a great opportunity as within the next year or 2, other land in this area will be developed by the well known Viccini's family (Central Romana); meaning all remaining land this close to the beach, the Chavon River, the Bayahibe town, and all the airports will increase the value of all property in this ideal area.

The owner of this property had intentions of building his dream villa with a large back yard, providing him plenty of space for all his desires (and toys)... yet, while still enjoying peaceful and lush tropical living . However, his work obligations changed.

For an investor that is looking to live full or part-time in the DR, this well priced land is the perfect opportunity because it is ready to build the home of your dreams. We can also assist should you need good builder recommendations.

POINTS OF INTEREST NEARBY (MINUTES IN DRIVING):

- Jumbo- Supermarket in LA ROMANA 15 minute drive
- Commercial area in Altos de Chavon 8 minute drive
- La Estancia Championshiop Golf Course (La Romana) 5 minutes
- Bayahibe / Dominicus 10 minute drive
- Bayahibe beach - 12 minute drive

Hurry before the price increases again!