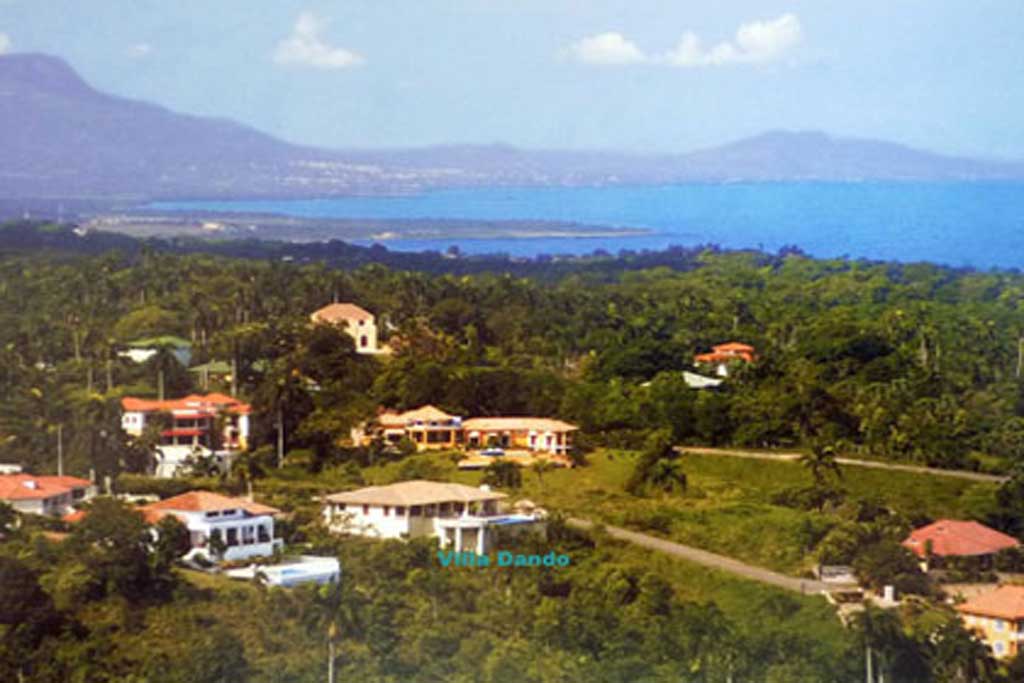 $ 850,000 USD
Stunning 180 degree Ocean View...
Spacious villa waiting for you to move into located in an exclusive residential development facing the ocean. This villa has a beautiful pool surrounded by a tropical garden.This luxurious residence comes fully furnished and includes all art and accessories. It is truly "turn key". It was professionally designed by a Canadian designer. This is a must see for your own personal showing give us a call
DRL#4074
Sosua, Villa/House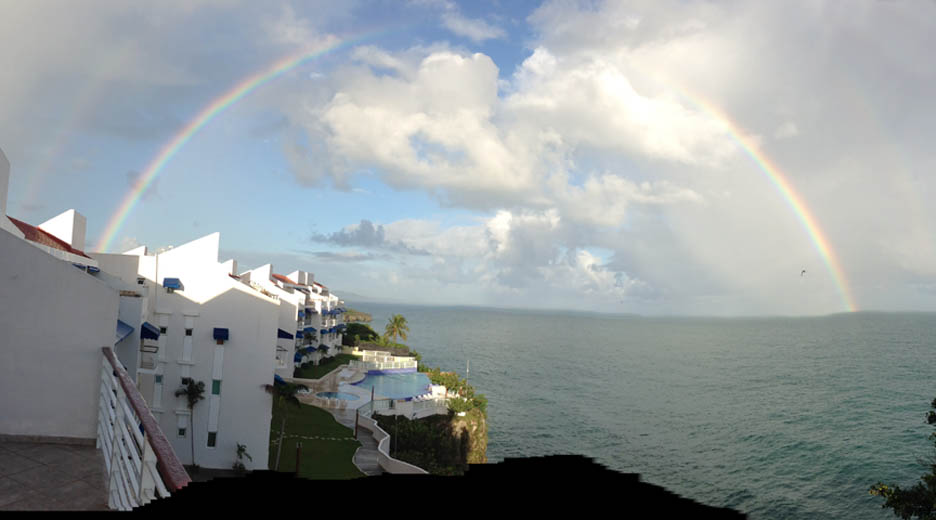 $ 339,000 USD
Stunning ocean front penthouse with...
Build by one of the most well known builders in the Dominican Republic, this project features one of the most beautiful infinity pools on the North coast. This rare two level penthouse features two large decks (one covered), electric metal shutters, extra storage, each master a view of the beach and eloquently furnished to make it complete. Located a short stroll from famous Sosua beach. Yes, this is paradise, why wait ….
DRL#4070
Sosua, Condo/Apartment
$ 124,990 USD
Ocean Front Condos in the heart of...
Starting Price $124990.00 for a 2 bedroom 60 m2 600 square feet. Guaranteed rental income return of 6% with 4 weeks usage 2 high season 2 low season. Best Location on the North Coast 15 mins from Cabarete, 5 mins Sosua 10 mins international airport. Right beside 5 star gym, restuarant and spa. Close to shops, supermarkets everything you need to live the Caribbean Dream! These buildings are right next to the ocean and beach. 24 hour security, electric and wifi internet access. Sit on your balcony enjoy the sea breeze or surf the net. Get to hot take a dip in the pool or relax outside under the bar waterfall. From the developer: Grand Laguna Beach is nestled in a private, gated residential area between the towns of Sosua and Cabarete on the North shore of the Dominican Republic. Sosua is a quaint town with a bohemian flair sporting lots of out door cafes, a wide variety of foods and an active night life including two casinos. Sosua beach is set in a protected cove and sports many bars and restaurants and has long been one of the favorite beaches on the north coast. Cabarete has a beautiful wide beach where the restaurants and bars are built directly on the sand. Cabarete is host to the world kite and wind surfing championships. Grand Laguna Beach is 15 minutes from Puerto Plata International Airport. Grand Laguna Beach is an elite condominium project developed in an exclusive neighbourhood. Grand Laguna contains 31 condominium units. The majority are well planned two bedroom units of approximately 1,000 square feet. Three bedroom, two story, 1,700 square feet penthouse units contain both a balcony and a spa terrace. Each condominium unit is finished with Carolina stone floors, upgraded kitchen cabinets, granite counter tops, latest style bathroom sinks, glass wall shower surrounds, wood trim, solid wood doors and air-conditioning throughout. A complete professionally designed furniture package is available. The building reflects the Colonial/Edwardian style of elegance and simplicity. Grand Laguna features a large pool and Jacuzzi with grotto/waterfalls, his and her bath, coralina decking, lobby, underground parking, back-up generator, car lift and two elevators. Future plans in the next phase include infinity pool and beach side casual restaurant. Should the owner choose, house-keeping and laundry service will be available at an additional cost. A rental service is also available, providing income to the owner. Grand Laguna Beach offers its owners tremendous flexibility of use. Grand Laguna Beach area amenities include nearby Robert Trent Jones golf course, and Playa Grande often referred to as the Pebble beach of the Caribbean is one hour away. Tennis, horse back riding, dune buggy rides, all wheel vehicle treks, go-kart racing, deep sea fishing, wind surfing, kite surfing, waterfall adventures, and of course restaurants and shopping are all conveniently located. The developers of Grand Laguna Beach have taken great steps to employ the very best talent and professionals to ensure your ownership and investment will be both enjoyable and successful.
DRL#4069
Sosua, Condo/Apartment
$ 89,000 USD
Escondido Bay Ocean Front Condo in...
1 bedroom Fully furnished, cable tv, air conditioning. Escondido Bay (Hidden Bay) Best Location on the North Coast 15 mins from Cabarete 5 mins Sosua 10 mins airport. Right beside 5 star golds gym, restuarant and spa. Close to shops, supermarkets everything you need to live the Caribean Dream! Watch youtube videos of community and condo. These 3 lovely buildings are right next to the Ocean. 24 hour security, electric and wifi internet access. Sit on your balcony enjoy the sea breeze or surf the net. Get to hot take a dip in the Olympic size pool.
DRL#4068
Sosua, Condo/Apartment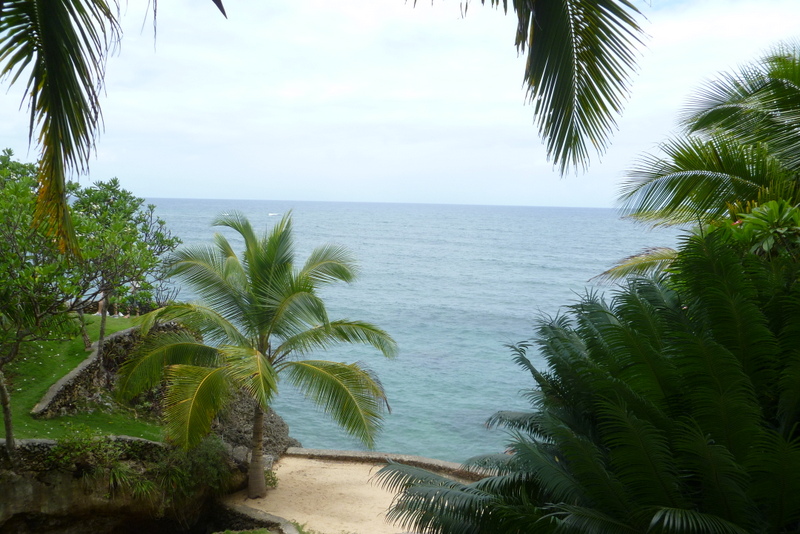 $ 1,333,000 USD
One of a Kind Ocean Front Land...
Incredible and magnificent are just some of the words that describe this prestigious ocean front property in Cabrera. It has a 180 degrees of ocean view in a gated community. Just over two acres you will have more than enough land to make your dream come true. This is a must see please give us a call for your personal showing.
DRL#4065
Cabrera, Land/Lots/Farm
$ 329,000 USD
Amazing Villa close to airport and...
This is a 2400 square feet/223 square meter tropical custom built home. This luxurious villa has everything you need. This home was built this year by a Canadian builder with reputation for building magnificent homes. The villa is located within one of the most prestigious gated community on the North Coast with many onsite amenities which includes a tennis club and a restaurant.This tropical style villa will allow you to enjoy the nature and beauty of the Dominican Republic. This villa with its picture-perfect view of the valley and a horse stable is the perfect home. The villa is delicately painted with an earth tone mustard color, the columns in white and terra-cotta tiles where placed on the roof which brings out its beauty, giving a hint of the inside of the villa. When you enter the villa you will see its natural stone floors, sliding doors, and European style windows. The ceilings throughtout the house and the terrace are vaulted with extended overhangs made in natural pine which is a perfect choice for the outdoor surroundings. The villa features a large gourmet kitchen with hardwood cabinets, granite counter top, equipped with stainless steel microwave, a dishwasher and an island with a propane stove. The villa has three large private bedrooms all with hardwood closets. Two of the bedrooms have there own private bathroom. The floors and walls are made of natural stones. The third bathroom has an beautiful outdoor shower made of brick. As you step out of the villa you will see the covered terrace and the breathtaking view of the valley with the horse stable on your left. On the terrace you can sit, drink a glass of ice tea, read a book or just relax and enjoy the valley breezes. Dropping down a couple of steps is a beautiful in ground pool where you can dip into on those hot days. This villa is located just minutes from Sosua where you can find one of the most beautiful beaches in the Dominican Republic. This small town also offers restaurants, clubs, bars, supermarkets, hospital, schools and much more. Cabarete, which is considered the capital of water sports in the North Coast is located about fifteen minutes away where you could surf, snorkel or just sit and enjoy the beach alongside restaurants which at night many of them turn into clubs. The International Airport of Puerto Plata is about fifteen minutes in the opposite direction. To obtain more information on this property or any other real estate in general in the Dominican Republic please complete the request form.
DRL#4063
Sosua, Villa/House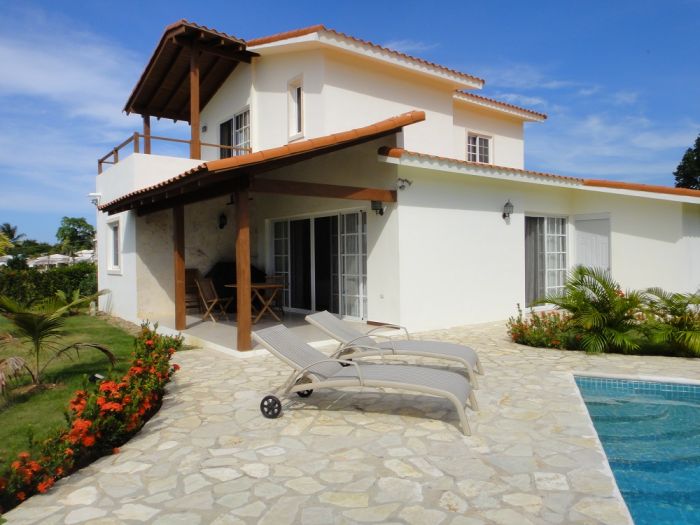 $ 349,000 USD
Amazing ocean view, great location...
Located in a nice, peaceful, residential community, This 2 storey house is well decorated with beautiful furniture and hardwood stairs and kitchen. High ceiling, spacious living room and well maintain garden and pool. See for yourself!
DRL#4056
Sosua, Villa/House
$ 49,000 USD
Super Deal on Restaurant and Bar...
Very nice restaurant located in a quit development close to Sosua. This popular International cuisine restaurant comes completely furnished and fully equipped to be taken over as a turnkey operation. Business only for sale.
DRL#4054
Sosua, Business/Hotel
$ 375,000 USD
GREAT VALUE...
The real value for this condo is $ 475,000 but for a quick sale the owner has dropped the price to $ 375,000 this is a MUST SEE.... One of a kind, Beautiful 3 bed 3 bath condo on the third floor. With fourth floor terrace. Spectacular views of the ocean. Fully furnished and equipped. Upscale kitchen with granite counter top, all high end appliances, Very good and safe location. High rental potential. The towns of Cabarete and Sosua can be reached in just a few minutes, A spa with restaurant is within walking distance. For your own personal showing give us a call.
DRL#4053
Cabarete, Condo/Apartment
$ 2,990,000 USD
Beach front Hotel...
Excellent opportunity to acquire your dream property on Cabarete's famous Kite Beach and convert it into an extraordinary business. two building have 26 units of 1 BR and 1 B. The 3rd building is the owners unit right on the beach the unit has 2BR 2 B. Pool, back up generator, green area and commercial space with beach front bar and restaurant, great potential. The center of Cabarete is just minutes away. For your personal showing give us a call.
DRL#4052
Cabarete, Business/Hotel
$ 28,000 USD
Attractive Studio Apt nr Sosua...
This nice fully furnished 50 sqm ground floor Studio Apartment in a quiet residential block on the outskirts of Sosua is ideally located close to the airport and is only a short walk to the local bay with its lovely beach. It has a community pool, sun terrace, security and a backup power system. It has recently been redecorated and is light and airy and comes with air-conditioning, ceiling fans and built in closets. The kitchen area has a cooker, fridge etc. The bathroom is well equipped. It includes a back up inverter. This property can be brought in conjunction with the property ref: DRL#   4030   for a combined price of 75,000 US$ (for the 2 properties)
DRL#4031
Sosua, Condo/Apartment
$ 349,000 USD
Condo Hotel Income Oportunity...
If your looking to live a dream life in the Caribbean and want something to do that creates income, this is a great opportunity. This building is located right on the main strip and consists of 3 commercial units which were renovated and 9 condo units were newly constructed in the back. These units are right in the center of everything and provide a great rental income. The best thing about this business is the low overhead. For less the 500.00 dollars a month the bills are covered which includes the water, internet, maid service, security, and cable tv. Each condo unit is metered seperately for the electric consumption in which long term tenants would pay. Sosua beach,restuarants,supermarkets and the night life is all in walking distance. This property is priced to sell and will not last long. Rental Rates:AP.1  one big bed up and one small bed down large ap  Night 47 $ Week 290 $ Month 660 $ AP.2  one big bed, large ap Night 47 $ Week 290 $ Month 660 $ AP.3  one big bed up and one small bed down, large ap Night 47 $ Week 290 $ Month 660 $ AP.4  one big bed up and one small bed down, large ap Night 47 $ Week 290 $ Month 660 $ AP.5  two rooms (each room have one big bed) Night 75 $ Week 360 $ Month 790 $ AP.6  one big bed (no ac,no kitchen)small ap Night 25 $ Week 138 $ Month 330 $ AP.7 one big bed (no ac, no kitchen)small ap Night 25 $ Week 138 $ Month 330 $ AP.8 two small beds (no ac) Night 35 $ Week 230 $ Month 420 $ AP.9 one big bed, small room Night 40 $ Week 260 $ Month 460 $  The aps have safe box, wi-fi, cleaning service, security Monthly rentals the electricity is not included.  Commerical spaces: 250-500 monthly BRAND NEW CONDOMINIUM BUILDING (500 sm of construction) LOCATED ON 586 Sq M OF LAND THAT CONTAINS : 9 APARTMENTS (AC, hot water, fan, kitchen, bathroom) of various sizes from studios to 2 bedrooms 3 COMERCIAL SPACES COMON AREA WITH LAUNDRY AND BARBECUE, ALL APARTMENTS AND COMERCIAL SPACES HAVE INDIVIDUAL CONTRACTS FOR WATER - ELECTRICITY - CABLE TV BACK UP ELECTRICITY AND WATER SYSTEMS ON SPOT FACILITIES : AC, 24 H ELECTRICITY, 24 H WORM /COLD WATER, WIRELESS INTERNET, Full furnished for hotel use
DRL#3856
Sosua, Business/Hotel
$ 274,900 USD
2 Bed Ocean Front with Beach Gym...
BayRock New Ocean Front Condos just finished Escondido Bay (Hidden Bay) Best Location on the North Coast 15 mins from Cabarete 5 mins Sosua 10 mins airport. Right beside 5 star golds gym, restuarant and spa. Close to shops, supermarkets everything you need to live the Caribean Dream! This Ocean Front beauty is new just recently finished. Located on the 3rd floor it has 2 bedrooms each with bathroom and walk in shower. The main living area is large with a nicely designed modern kitchen and a great view of the turquoise water. The owner added luxury furnishings including hardwood oak dining table with stools, 32" tv that hangs on the wall,sofa that turns into a bed. New air conditioners that consume 50% less then standard to preserve the electrical cost. The common areas are tremendous having outdoor bbq, large pool, shaded sitting area, bar and to top it all off a doorway right to the very large Playa Laguna beach.BayRock 2 presale construction will begin in the same community on the last Ocean Front building lot. Email for preconstruction prices or save time and buy this unit ready to go!!
DRL#3843
Sosua-Cabarete, Condo/Apartment
$ 449,000 USD
Gorgeous Villa On Huge Lot with 1...
This 400 m2 villa (4000 sq ft) sits on a massive 2000 m2 half acre lot. This is the largest building lot in the area. After driving into to this gated community you make the first right to enter the driveway surrounded by other beautiful villas. Photo attached. This gated community is one of the most prestige communities in the area having its own large beach. Next door is a large development called Ocean Village which has 3 large pools, restaurant, water park, spa and 5 star golds gym. 5 min from Sosua, 10 mins to Cabarete and 10 mins to the (POP) airport you are in the heart of the North Coast. I purchased this building lot 6 years ago and have been slowly building this villa to make it high quality luxury living. This is truly one of the best places to live with a great quality lifestyle. This villa has a registered Deslinde which is a legal GPS survey of the land which makes purchasing very simple. The main floor is 320 m2 fully furnished. Once you enter the beautiful driveway all laid in brick you enter the large entrance just off the 2 car(s) port. In the foyer there is a half bath. After exiting the foyer a beautiful 20 ft high ceiling and large dining kitchen and outdoor living area. 3 large bedrooms with the master bedroom having a huge walk in closet and bathroom with saparate walk in shower and large area with jacuzzi. In the back of the villa there is a finished 1 bedroom 80 m2 apartment with beautiful bathroom and kitchen perfectly designed with custom built hardwood. The bathroom has a separate walk in shower and large soaker tub. The main pump/storage house outside has a laundry with propane dryer, washer and water heater and also back up power system installed. The apartment is protected from the sun and is always great temperature having European double pain pvc windows installed with pvc blinds. You could live in the apartment and rent the rest of the main house or vice versa.
DRL#3838
Sosua-Cabarete, Villa/House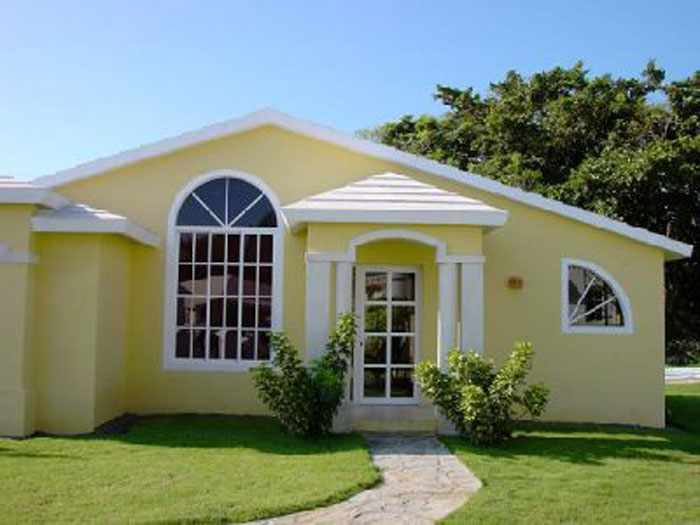 $ 135,000 USD
Perfect 2 BDR family home with a...
Pre-Construction-Sale: Phase II and III of a well working and cozy Gated Comunity   Buy your future home now and choose your own details. Houses from 100m2 to 150m2 Lots from 602 m2 to 1142 m2 Fences and secured with an automatic gate 32 m2 pool 24/7 water 24/7 power Prices calculated in turn key house with a fenced and landscaped garden of 700 m2 and a 32m2 pool. Actual prices depend upon the chioce of house type and lot size, as well upon changes in pool size or finishing.
DRL#1016
Sosua, Villa/House